Earlier on this week Direct Meats were proud to support A Passion to Inspire.
"'A Passion to Inspire', founded by Murray Chapman, is a non-profit making, voluntary initiative, initially developed to bring education and industry closer together – to help and support' the future of tomorrow today'. The initial format was a competition… but with a fun and supportive element, to nurture, encourage and support students, and give them belief in, and a passion for, their chosen career."
City College Norwich wins 'A Passion to Inspire'
After 3 years we are all back Inspiring
The Team from City College Norwich demonstrated their passion for food and hospitality perfectly with their menu and service to win the 2022 'A Passion to Inspire' competition.
The outstanding food and front of house service meant that the college Winners Drew Denington, Josh Amos-Terzza (Kitchen) and Jasmin Boughen (FOH)and Lecturer Paul Smith will now be invited to the Skills for Chefs where they will meet Culinary Legends Pierre Koffmann, Paul Ainsworth and Hrishikesh Desai as well as winning a host of other experiences and treats. https://www.skillsforchefs.org.uk/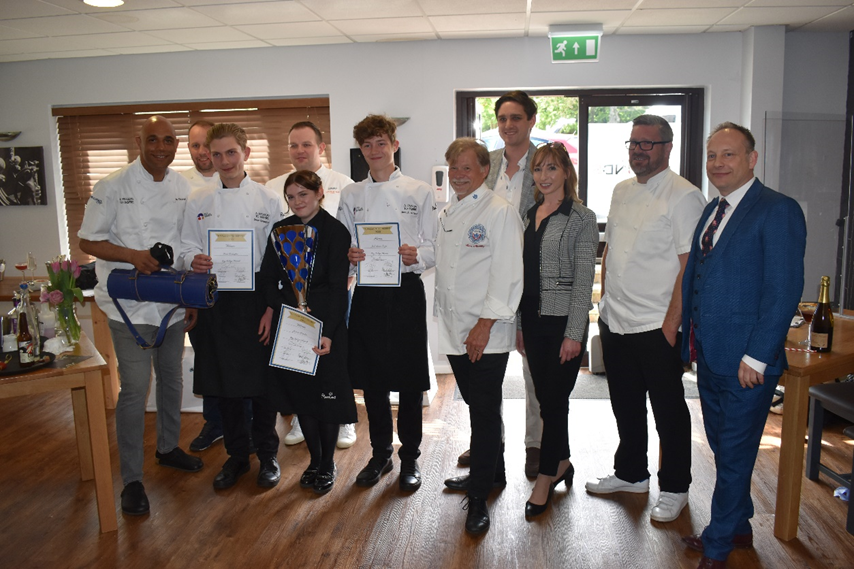 City College Norwich's Winning menu was
Cured soy salmon
Nori, pickled cucumber, shitake mushrooms
Saint Clair Riesling New Zealand
Roasted crown of Creedy Carver Duck
Duck leg pithivier, sprouting broccoli, red current jus.
Cruel Mistress Pinot noir Western Australia
Raspberry souffle
Marinated raspberries, pistachio crème anglaise, raspberry and strawberry sorbet.
Raspberry chocolates
Cherry Bakewell cocktail
Winners best use of Wine and Cocktails – West Suffolk College Sofia Pipe, Ewan Smith and Lois Thompson with Lecturer Stuart Ascott – Cocktail : Strawberry & Gin Fizz a great prize- Adnams – Lunch for 4 at The Swan Southwold and a Brewery Tour and they also won the very Special Skills Test – Tosier Chocolates, Zero Waste Petit Fours and won a stunning engraved Prize from Jazz at Chefii Knives
Judging the winners were UK leading chefs and Restauranteurs Daniel Clifford – Chef Patron Midsummer House, Steve Munkley – Vice President of the Craft Guild of Chefs, Adam Smith – Executive Chef Coworth Park, Mark Poynton – Chef/Director MJP Restaurants and judging Service were Karine Canevet -Owner Maison Bleue, Bradley Dorrington – GM MJP Restaurants, Nick Mills Director – Brasteds/ Caistor Hall , and the teams were supported by Nick Claxton-Webb Executive Chef – Adnams
The competition was sponsored and supported by Russums, Ponthier, True Foods Stocks and Hallgarten & Novum Wines. Creedy Carver Ducks, Dingley Dell, Nurtured in Norfolk, Anglia Produce, Direct Meats, Adnams, The Craft Guild of Chefs and a special thanks to Perran King – for setting up the live feed and videoing the whole day for us all with over 300 people watching live – great people that care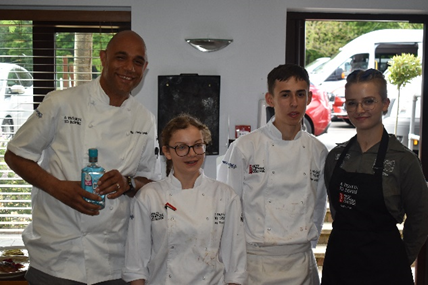 Paul Smith, Supervisor of City College Norwich's Debut Restaurant, said:
"The standard of the competition was extremely high. It was hard day, it was a proper battle, and they really had to work for it. The judges said they were impressed with how our students handled themselves in the kitchen, and front of house, the feedback was great. I was so proud of the team. It was so rewarding at the end to see their faces. They were beaming with everything they had achieved. They did the college proud."
Josh Amos-Terzza, who is on the Level 3 Advanced Technical Diploma in Professional Cookery at City College Norwich, said:
"There was some pressure at times, it was a long day, but it was fun. I enjoyed it. We worked really well as a team. There was a lot of good communication, everyone did their part, and it all went as well as it could have gone. It's a really good thing to be able to have, to say that we've had these experiences with these really amazing chefs. It will be helpful when going for any job."
This year has been simply amazing over the past 3 months we have had 7 Heats at West Anglia College, Colchester Institute ,Suffolk New College, City College Norwich , Cambridge Regional College – New City College Hackney and West Suffolk College -The greatest part is the support from local wonderful people at each college such as Sam Carter, Lee Cooper, Alan Paton, Matt Wilby, Eric Snaith, Greig Young, Chris Lee, James O'Connor and Dave Wall to name a few over 26 and then they changed from Judges and became mentors for the finalists and spent a lot of time supporting an inspiring them – magic thank you also very much!
Drew, Josh and Jasmin were thrilled with the result and were inspired to participate by Lecturer Paul Smith and Chef Lecturer James Phillippo said: "It has been an absolute pleasure to mentor these students and I think it's important for industry professionals to share techniques, ingredients and experiences with the young talent coming through Debut Restaurant and do a fantastic job of linking these students with industry and I am proud to be a part of it."
Mark Poynton – Quote – " So very proud to be part of a magnificent line up of judges – The Aptitude and attitude of the all the finalists was simply amazing – their work ethic and teamwork stunning – it was a hard day judging – and as Murray said he was so happy not to be a judge –A special mention to NCC Hackney the lecturers and students- they have had a difficult journey especially with the weekend – most colleges would have pulled out – but the Lecturers Jeff and Justin said NO- we want to support our Students – simply Magic – so proud of them – and going forward I cannot wait until our next culinary Adventure "
Bradley Dorrington – quote "a fantastic day seeing the best talents from 7 colleges. From table carving to cocktail shaking the effort and passion on display was incredible. Thank you to all our partners, mentors, lecturers and colleges for being involved in Passion to Inspire 2022 and we look forward to next year!"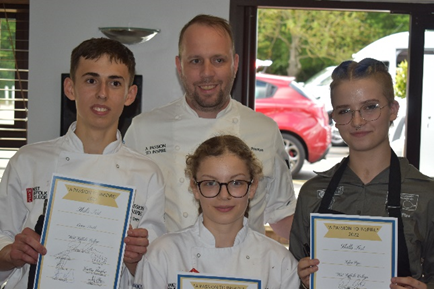 Special FOH Upskill Day
To support the FOH finalists – we had a great FOH Upskill day organised by Bradley Dorrington – Service -Wines Matches – Cocktails a magical Day with fantastic support from to Ed Keith – Hallgarten & Novum Wines, Karine Canevet – Maison Bleue, Bury St Edmunds, Paul Brotherton – Ponthier Purees, James Hall – The Swan Southwold / Adnams and G Franklin – Luxardo
'A Passion to Inspire' was founded by Murray Chapman in 2009 and was set up to bridge the gap between up and coming catering and hospitality students and the hospitality industry. A Passion to Inspire has raised over £236,000 for various charities.
Murray said: "The standard this year was extremely high and each team did so well. Congratulations to all seven colleges for reaching the final. Thanks must go out to our sponsors, judges, mentors and lecturers as without them this would not go ahead. Thanks also to Claire and the team at Edmunds for their fantastic hospitality.
Murray continued: It is great to see these colleges and students coming together and being supported by local and national producers, suppliers and employers – it gives you faith that these young people can succeed in our industry!"
Congratulations to College of West Anglia, Colchester Institute, Suffolk New College, Cambridge Regional College, West Suffolk College, City College Norwich, New City College Hackney   for reaching the grand final. To reach the final – 7 Heats – 34 teams – 102 Students and lots of Great Lecturers – Mentors – Chefs and Employers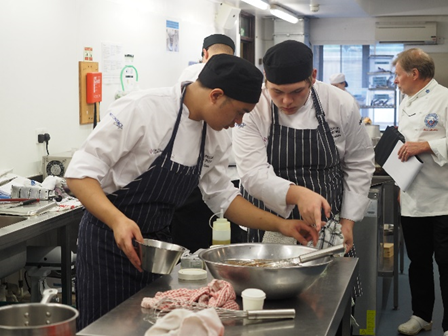 Special Gifts for all the Finalists
Great Support – A Passion to Inspire Chef Jackets and aprons from Richard at Russums and from Paul at Ponthier Special cocktail shakers and recipe booklets for all the FOH finalists and for the Chefs and Spatula's and scrapers for the Chefs
Full list of Prizes given to the winners
The Winners Trophy – Skills for Chefs 2022 -Dinner/ Stage at Titchwell Manor – Great Chef Jackets and aprons from Russums – Stunning Chefi Knife rolls – College farm visit to Dingley Dell Pork Farm
Infusions ICE Special Day Experience – College Day visit with Nurtured in Norfolk – College Wine Tasting Experience Hallgarten and Novum Wines with Ed Keith – Mark Poynton's magical new book "It's Just Food "– Bradley Dorrington – MJP Restaurants – A very special day including and focussing on service, wine, cocktails – Nicola Chandler – Direct Meats a very special lunch invite for the winning Lecturer and Stages at the Duck and Waffle
A Massive Special thank you – to the Claire Waterson, Stuart Ascott and the whole team at West Suffolk College for hosting and supporting a fantastic day with such brilliant Hospitality – you are all superstar – thank you and see you next year??